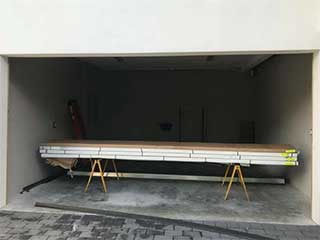 Your overhead door system consists of many different components, all of which need to work perfectly together. There are many different parts that can develop problems, from the rollers and springs to the tracks and the opener. Our technicians can identify and fix any issue your system can experience, thanks to our wealth of experience and strict attention to details.
Common Opener Problems
The most complex part of your overhead door system is always the opener. This is the motor that powers the motion of the panels, and it relies on a complex arrangement of sensors and mechanical components in order to function properly. As with any complicated piece of machinery, there are many different problems that can arise, from a faulty circuit board to a damaged trolley or a worn out motor gear. Our technicians can expertly address any issue. If your opener won't start, or if it seems to be running but the door won't move, we can quickly diagnose the situation and apply the right solution. If some part proves to be beyond repair, you can count on us to replace it on the spot.
Broken And Worn Springs
The average garage door weighs between two hundred to three hundred pounds. This weight is supported by the springs, which counterbalance the weight of the panels and provide them with the tension-based force they need to move up and down. Although they're built to last, they will weaken over time - cheap extension springs can wear out in as little as three years, while high-quality torsion units can keep working for ten years, or even more, with the right maintenance routine. If a spring breaks, or is wearing out, dealing with it can be extremely dangerous. Don't try and perform the spring replacement by yourself, as you could get seriously hurt. Instead, let our technicians safely replace these components for you and make sure that their tension is properly adjusted. The same goes for the cables. They too can wear out and become frayed over time, and replacing them will require an expert's assistance.
Maintenance And Service Appointments
The key to maximizing your door's service life is to schedule regular maintenance checks with our experts. We'll lubricate the chain or screw drive (depending on which one your opener uses) as well as your torsion spring and garage door rollers to ensure the system's smooth operation.
We Can Help You Today
If you need anything from emergency opener repair to professional panel replacement, our team at Garage Door Repair Kaysville is ready to assist you. Contact us today to find out how we can help.
In addition, we offer:
Oil Tempered Torsion Springs
New Garage Door Installation
Belt Drive Garage Door Openers
Part Replacement & Lubrication