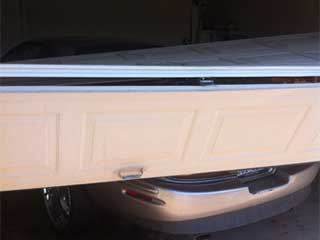 The nature of unexpected problems is their unpredictability. They are, after all, unexpected, so there's no putting them off. Now's not a good time, problem, please come back, hmm, let me see, how about... never? No. Unfortunately, your garage door doesn't care how busy you are or if this is a bad time. While it's true that dealing with some types of problems can be postponed, it's not recommended, especially not when it involves a system that's working under such high amounts of tension like your garage door does. Our company provides emergency repair services for exactly those types of scenarios where urgent assistance is so crucial. There are a lot of dangerous incidents that we can take care of for you, so don't hesitate to reach out to us when something unexpectedly goes wrong.
Potentially Dangerous Problems
A properly operating garage door is one that provides its owner with convenience as well as safety and security. When any of these aspects are compromised, dealing with the cause quickly is incredibly important. A broken spring, for example, can make it impossible for you to use your door, as it relies on this type of component in order to support and counterbalance its weight. The task of spring replacement is very dangerous, as it involves dealing with tightly wound steel coils that can cause serious injuries when they are mishandled. Another potentially dangerous scenario is a door that got off track. This type of issue usually occurs due to some bending in the tracks, which causes the rollers to slip out. Realigning the door with its track requires experience and skills to be performed safely, so professional assistance is absolutely necessary.
Speed Is Key
Dealing with the problems we mentioned above, and lots of other ones like them, merits urgency. A lot of times you won't be able to get your car out of your garage or get it inside it until the situation is addressed. That's where our team comes in. We offer fast response emergency repair services that will see your automatic garage door up and running again in as short a time as possible. Not only can our technicians fix everything from the opener to the cables, we also always bring all the necessary replacement parts with us when we go out on a call so that we'll always be able to handle these types of issues on the spot.
You Know Who To Call
Make our team at Garage Door Repair Kaysville your go-to service provider for sudden mechanical and electrical problems and you won't regret it. The high level of service we've been offering local homeowners for many years has made us the best team to reach out when a speedy response is needed. Contact us today and let our repair specialists help you out of any jam.